HOLD THE LINE
We have been and are still believing that President Donald J. Trump will win a second term! There are many, many prophetic voices declaring his victory (Amos 3:7). At 12:04pm today, November 7th, 2020, Braden texted "They just called it - Joe Biden is our 46th president." I replied "No, he is not, it will be reversed." I felt emotions of fear and dread approaching but I saw myself in the frontlines of the battle, with many other prayer warriors, and the Lord shouted, "HOLD THE LINE!!!!"
"HOLD THE LINE! DO NOT RETREAT! DO NOT FALL BACK! WE STAND OUR GROUND WHEN EVERYTHING AROUND US IS SHAKING!"
The closest visual I could find of what I was seeing is this video gif. It symbolizes our Commander and Chief of Heaven's Armies, mounted on a white horse, and all His army surrounding Him on the frontline! Each warrior has a choice - surrender to their emotions, give in, fall back and retreat? or hold their ground and just stand?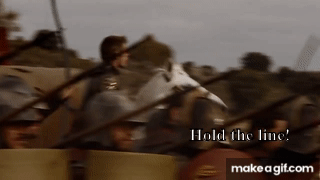 Therefore, put on the complete armor of God, so that you will be able to [successfully] resist and stand your ground in the evil day [of danger], and having done everything [that the crisis demands], to stand firm [in your place, fully prepared, immovable, victorious]. Ephesians 6:13 AMP
Christ on a White Horse
Now I saw heaven opened, and behold, a white horse. And He who sat on him was called Faithful and True, and in righteousness He judges and makes war. His eyes were like a flame of fire, and on His head were many crowns. He had a name written that no one knew except Himself. He was clothed with a robe dipped in blood, and His name is called The Word of God. And the armies in heaven, clothed in fine linen, white and clean, followed Him on white horses. 15 Now out of His mouth goes a sharp sword, that with it He should strike the nations. And He Himself will rule them with a rod of iron. He Himself treads the winepress of the fierceness and wrath of Almighty God. And He has on His robe and on His thigh a name written: KING OF KINGS AND LORD OF LORDS. Revelation 19:11-16
The King of All the Earth
For the Pure and Shining One, by the prophetic singers of Korah's clan
A poetic song
1 Go ahead and celebrate!
Come on and clap your hands, everyone! Shout to God with the raucous sounds of joy!
2 The Lord God Most High is astonishing, awesome beyond words!
He's the formidable and powerful King over all the earth.
3 He's the one who conquered the nations before us and placed them all under our feet.
4 He's marked out our inheritance ahead of time, putting us in the front of the line, honoring Jacob, the one he loves.
Pause in his presence
5 God arises with the earsplitting shout of his people!
God goes up with a trumpet blast!
6 Sing and celebrate! Sing some more, celebrate some more!Sing your highest song of praise to our King!
7 For God is the triumphant King; the powers of earth are all his. So sing your celebration songs of highest praise to the glorious Enlightened One!
8 Our God reigns over every nation. He reigns on his holy throne over all.
9 All the nobles and princes, the loving servants of the God of Abraham, they all gather to worship. Every warrior's shield is now lowered as surrendered trophies before this King. He has taken his throne, high and lofty, exalted over all!
Psalm 47 TPT
---
---